Well, the big race is over. I had a great time on this trip and documented each day. So here is a description of my trip out of the country:
Day 1's: Tuesday/Wednesday May 15th/16th -Traveling to HungaryWell, I'm almost in Hungary. As of right now, I am in a minivan driving to the city of Gyor. This traveling is awful!! Its been 24 hours since I left home, and I am not even at my hotel yet. The first flight was about 8 hours long, but luck fully I slept four hours. There were individual TVs for each seat and you could choose movies, music, or games. So that was entertaining for a little while. On the plane we had two meals. The first one was a dinner of ravioli with meatballs, salad, and a little brownie cake and then breakfast a few hours later was some yogurt and bread.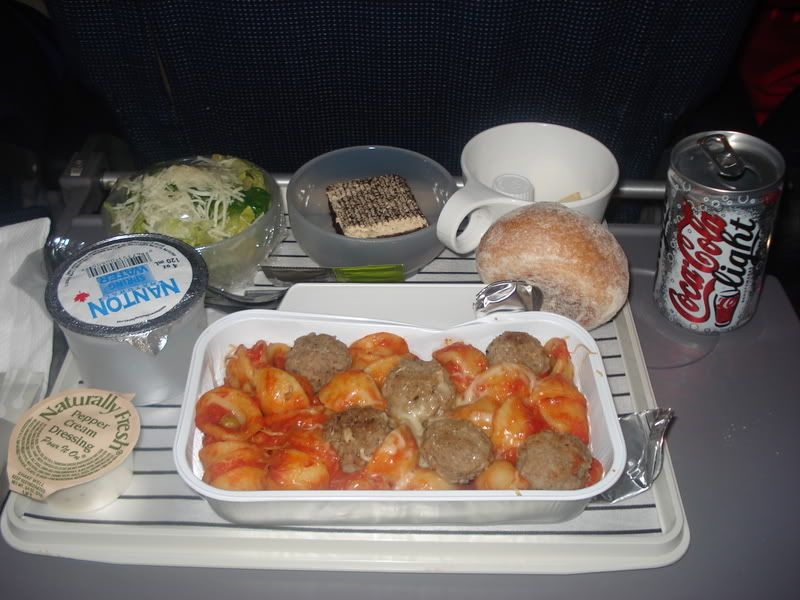 The food wasn't too bad considering it was on a plane. When we arrived in Stockholm, we had no clue where to go. We had a 7 hour layover which was terrible. I was so tired and thrown off because of the time change. It was 7:30 am when we arrived there and I felt dead because typically it is 12:30 am at home. So my uncle and I sat in a little café area and I fell asleep on a chair. Eventually I put two chairs together and slept for a little curled up in a ball. After the layover, we took a plane into Vienna. That flight was only 2 hours, so it wasn't too bad. When we arrived, things started to go wrong. First off, my bike case didn't show up. I was really nervous that I wouldn't have my bike for the race and would have to borrow somebody else's. Then my airport transfer to the hotel didn't show up. It is hard to communicate with anybody so it just made things even more difficult. Eventually, we found a travel director who said we could get a ride with him, and while we were waiting for the van to pick us up, my bike came! I was really relieved, but I'm still nervous about the rest of the trip. Hopefully our hotel has our reservation and that the hotel isn't too far away from the race site. But overall, this trip has been looooooong. I just want to be at the race site, in my hotel, with everything going smoothly. But we shall see. I will write more once I find some more updates.Oh and on a side note…the cans of Coke are soooo fun. They are little mini cans and their diet coke is called coke light. It is pretty tasty I must say. Now at the hotel! Whew, this is crazy. The front desk will not let me bring my bike into the room because of the "rug." I guess my bike will ruin their carpet? I am not quite sure, but he made me put it in their garage. I hope it is safe sitting in there! The hotel itself is nice. We have individual sleeping bag type blankets which is strange and there are only about 14 rooms in the entire hotel. But now its off to bed to get a loooong rest.
Picture of a view from our hotel: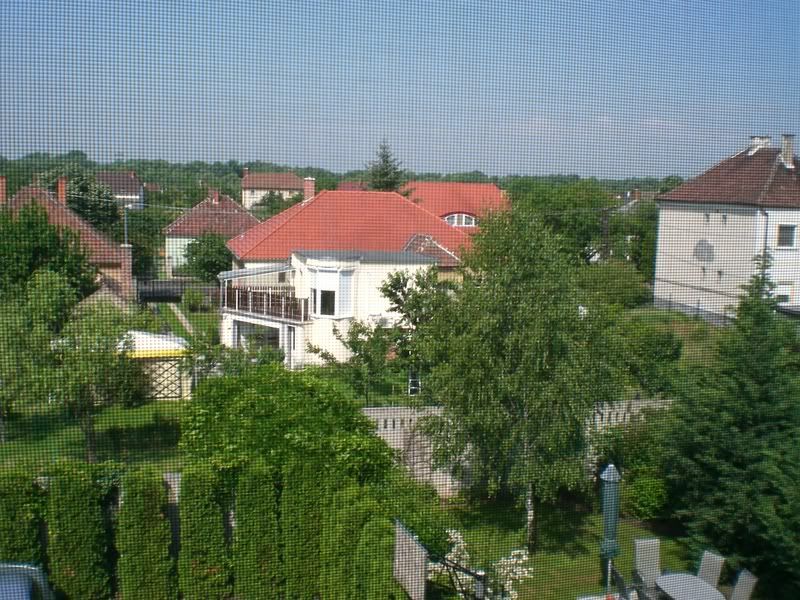 Day 2: Thursday May 17th-Exploring GyorWhat a day! To begin, we woke up at around noon. I was actually up at 7 or so because our neighbors were making some noises of pleasure if you know what I mean. After laying in a bed for a while, we took showers and got ready for the day. We went downstairs to the lobby to ask for directions on how to get to the main city area. She spoke a little English and said, "Why weren't you at breakfast? I was waiting for you." We were shocked because in the US if you're late for something especially a breakfast buffet at a hotel, you will not be waited for. So my uncle and I felt pretty bad because she seemed very sad that we did not show up. We made our way to the city which was about a 3 mile hike down the highway. I registered for the race which was a huge mess because the people do not speak English and required payments for the hotel, airport transfers, and race registration before you got your race numbers. I was confused because we did not even have an airport transfer and they were trying to charge me for it. After working everything out, we got a deal of 200 Euros for the transfers and hotel, which is around 300 US dollars, not bad! Once that headache was over, it was time to venture off and find some food. The main city of Gyor is really neat.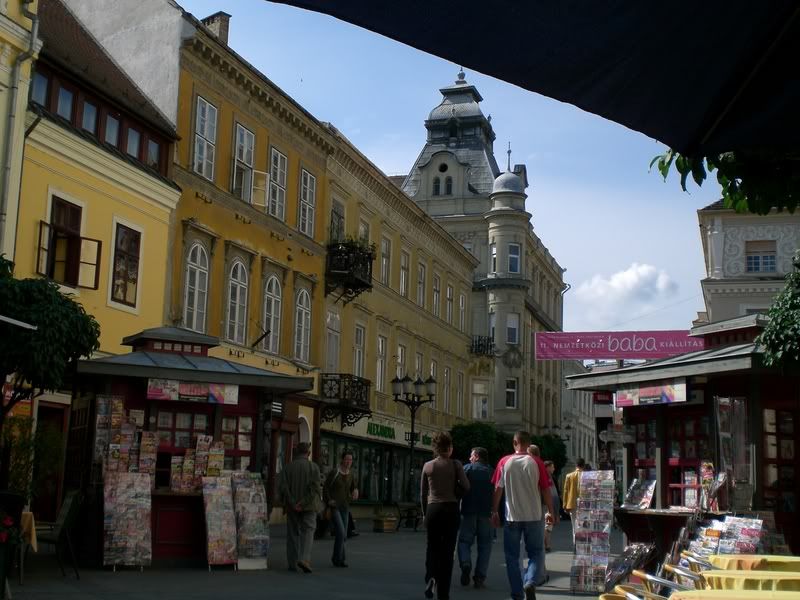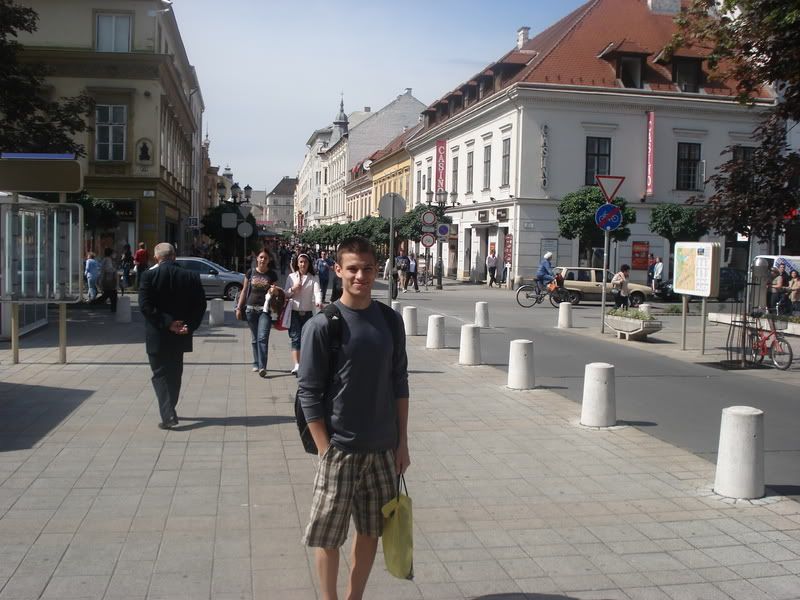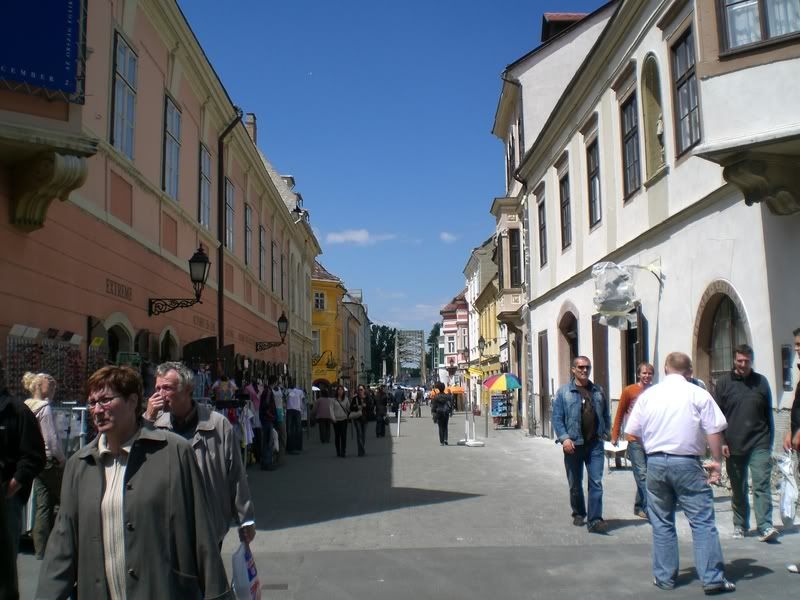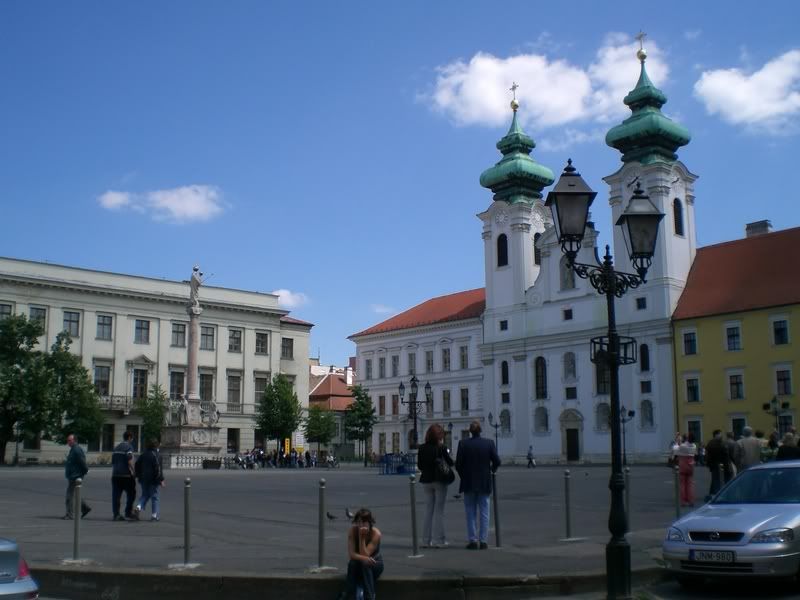 There are little roads with shops and restaurants on the both sides. We sat down at one restaurant and decided to leave after seeing pigeon and goose liver on the menu. We ended up eating some Pizza Hut just because it was the only thing we knew would taste ok. Ordering is pretty tough at restaurants. We basically just would point at what we would want. After lunch, I went for a quick jog back to the hotel, grabbed my bike, and rode around for a little. There was an elite team meeting, then I rode for 30 more minutes around the town. Dinner time! My uncle and I went to the Team USA dinner over at their hotel. It is a really nice hotel which would be nice to stay in, but our price worked out much better. There were Hungarian dancers that did a little dance for us. It was pretty neat. I will post a video of the dancers so be sure to check that out. They served salad and almond crusted chicken with a raspberry jello dessert for the dinner. One thing I cant stand here is the water. I guess they like "bubbly" water. It is carbonated and does not taste good at all. Other than that they sell bottled water which is either carbonated or full of zinc, magnesium, and calcium. It tastes awful. I am better off drinking water out of the sink. Overall, the dinner was good. Once that was over, I stored my bike at the team USA hotel just so its not in the garage at our hotel and so that I do not have to bring it back down to the race site later tomorrow. At night we walked around the town for a little. There was a grocery store to buy some drinks and snacks. So after picking some things up, we walked all the way back to the hotel. It was a good, but tiring day. We need to make sure we are up for breakfast or else we might get yelled at again. But now its off to bed, I'll update tomorrow!
Day 3: May 18th-Race PreparationsWell today was really nice. Everything went smoothly and there were no mix ups or confusions. We woke up at around 8 am, got ready, and went down to breakfast. We did not want the girl at the front desk to be sad and wait for us today. The breakfast consisted of cereals, breads, and yogurt. The cereal was strange and stale tasting, but oh well, its not something strange like pigeon stuffed with cheese. After breakfast we ventured off to figure out the bus system. It worked out quite nicely.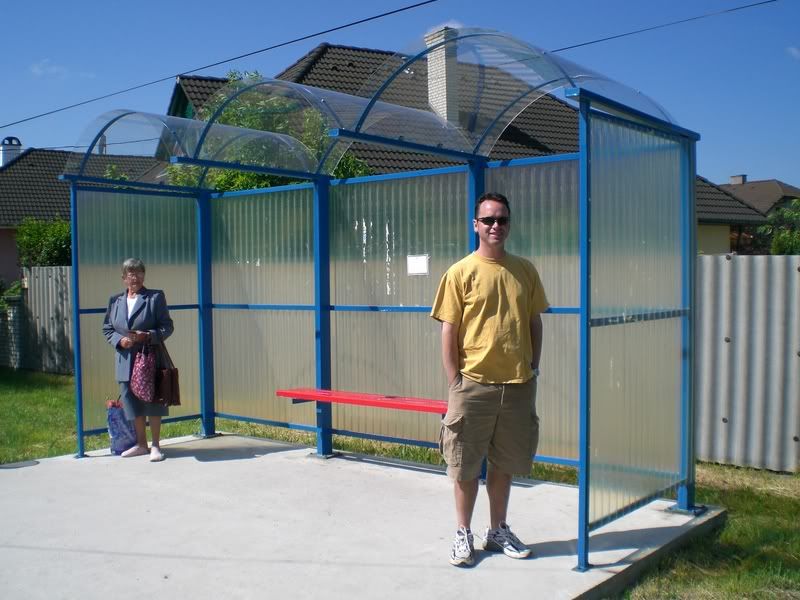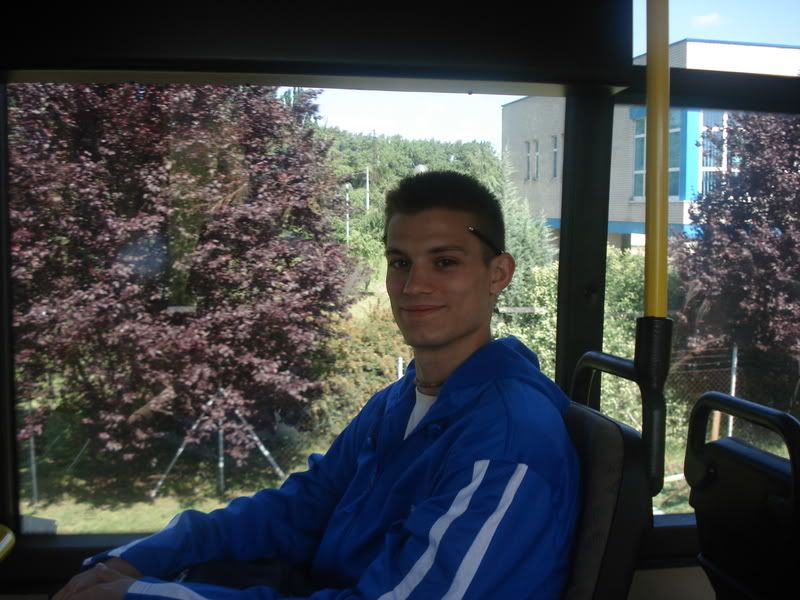 I wish that we knew about the bus system yesterday because it is fairly easy to figure out. The bus stops 10 meters down from our hotel and drives right over to the race site in about 10 minutes. When we got to the race site, I picked up my bike and rode the course to see how it is. I am pretty nervous because there are a lot of 180 degree turn around areas. The pros are going to be flying and taking off after each of these. I felt pretty good which is a good sign though. I noticed my cleat on my shoe was chipped and luck fully the Team USA mechanic had a spare and was able to change it for me. I tested it out and it works very well.After the workout, it was time for some food. Instead of trying something crazy and new, we opted for McDonalds. It is interesting that they do not have super size meals here in Hungary. And if you notice, there are not many overweight people like there are in the United States. Maybe we should cut back on the large portion sizes? The only downfall is that most of the people here smoke. It is almost as if they all do. But the McDonalds had a nice little mozzarella ball salad, which filled me up quite nicely. Once we finished lunch, we sat around outside and enjoyed the weather. At 4 oclock, I had a meeting on the course and race tomorrow. I think I know everything that I need to know except for the transition. I will watch the women's race tomorrow and see how they handle it so that I know. I'm starting to get a little nervous about the race because there are about 85 pros racing! That is a large field, and each one of them is very good! But enough about the worrying. I am a strong athlete and can hold my own in any size field or strength. The team parade was after the meeting. It was very long.
Takahashi Nakata and me during the parade: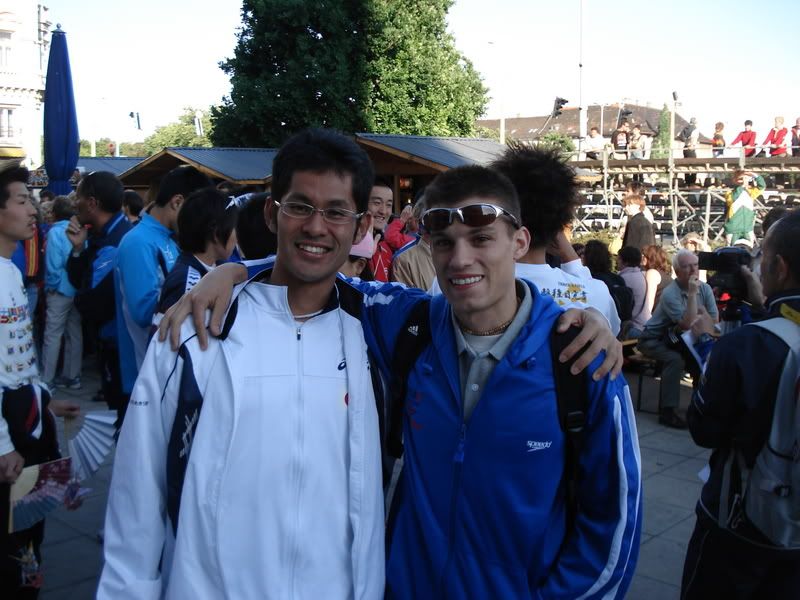 I opted to sit down and rest my legs once the opening ceremonies took place. The performances were good, but too long. The performances included many dancers and an acrobat group. It was funny because they played an American rap song really loud on the speakers and the "F" word was repeated over and over. I do not think they know what it means or else I don't think they would have played that, especially at an opening ceremony. There was spaghetti and pastries for the dinner. The spaghetti was in big tubs and was definitely overcooked, but oh well. What can you ask for when they are serving 1000 athletes and many other guests? My uncle and I walked back early to try and find our bus. My uncle does have a new name though, he is called "Pet." This is because when ordering an internet card, they asked for his name and he said Pat. But the lady wrote down Pet and called him that. So now I have an uncle Pet. And to go along with his Hungarian name, I am Rygn. We fit in Hungary quite well now. We know the bus systems and some basic language. But for now, I think it is time to get ready for the big race tomorrow. I will race at 5pm (10 am Chicago time). I only pray that things go smoothly tomorrow. I just want a solid race that I will not be disappointed about. After the race, I will make sure to post a full race update (that is unless I crash and am in the hospital). But lets not think about that! I will write tomorrow. Wish me luck…-bread
Day 4: May 18th-Race Day!!!!Well, the day is finally here. Today is the day that I get to prove myself and show the world how good I am in the sport. To start the day, Pet and I went down for breakfast. The hotel workers here at our hotel are extremely nice. It is such a change from when we arrived. We did not know what to expect and were on our guard at all times. But all the people here are very nice. After breakfast, I packed my bags and took the bus into town. Pet and I got there around 11 am. I made some last minute adjustments on the bike, rode a little bit, and then put it into the transition area. I watched a little bit of the junior race and decided just to go lay down instead of worrying about racing. It ended up being a good idea because I was able to concentrate on other things and not freak myself out. I did watch a little of the women's elite race. Vanessa Fernandez of Portugal won, which was expected. Her first run was 32 minutes, which scared me because that is a really fast time for an opening 10k. Little did I know that the first run was about 1.5 minutes short. Before the race, I made sure that I had enough water and nutrition set up for the race. In previous years I have either dropped a water bottle or ran out of liquid to take in during the race. The distance of this race is hard to explain. It is similar to racing a marathon I would say. So I put two water bottles on my bike and had two Gu packets stored in transition. After getting my nutrition set up, I went for a jog, did some strides, and went over to the starting area. I surprisingly was not very nervous. I figured that there is no reason to be worried. I can just go as hard as I can go. If things don't work out, then oh well. I will always have more races to prove myself. The starting line was very crowded! It was a single lane of a street with 70 men fighting for a position. I was put into the back because of my high number, which sort of stunk, but I do not really like starting in the front anyways.
City Hall of Gyor : The starting line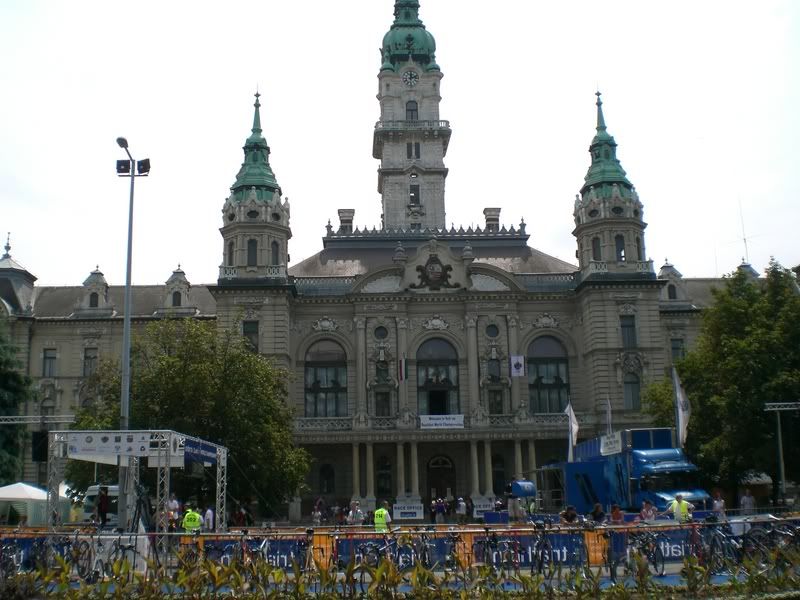 THE START!The gun went off and wow. Every guy was flying on the first run. I sat back a little bit just to make sure that I did not make the same mistake of previous years of going out too fast and dying.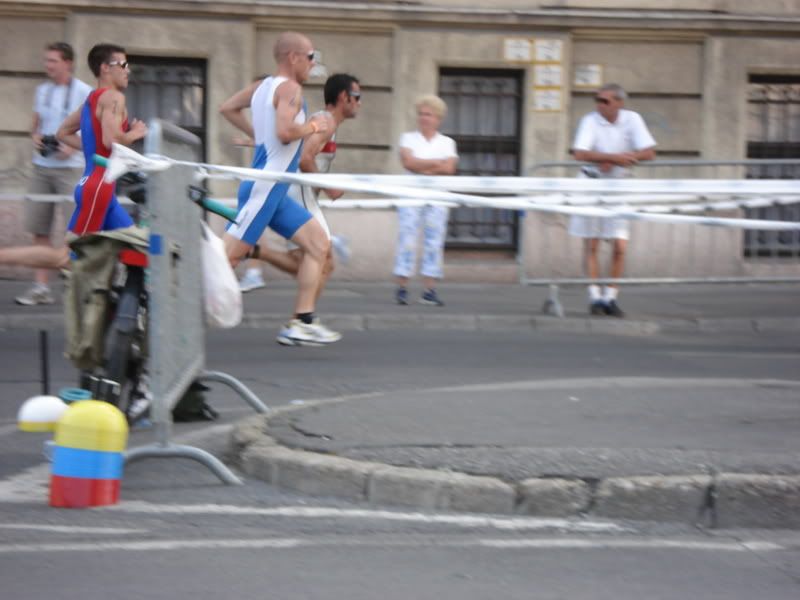 The first run was 4 loops of 2500 meters to total 6000 (10k). On the second lap I positioned myself quite nicely and moved up throughout the rest of the run. By the third lap I was running strong and bridged up to the runners consisting of Joeri Vansteelant (ranked 1st in the world!) and his fellow Belgian athlete and U23 competitor Bart Aernouts. I knew that I was doing well since I have never been running with them for the first 10k. They are usually 30 seconds ahead of me. The only problem was that I was pretty tired finishing the first 10k. I guess my time was 29:30, and the course was definitely short. I would say it is about 1.5 minutes short. My transition was awful! I could not get my shoe off and lost the pack that I worked so hard to stay with. So the start of the bike I was all alone.
THE BIKE!
To start, I lost the pack that I had ran with.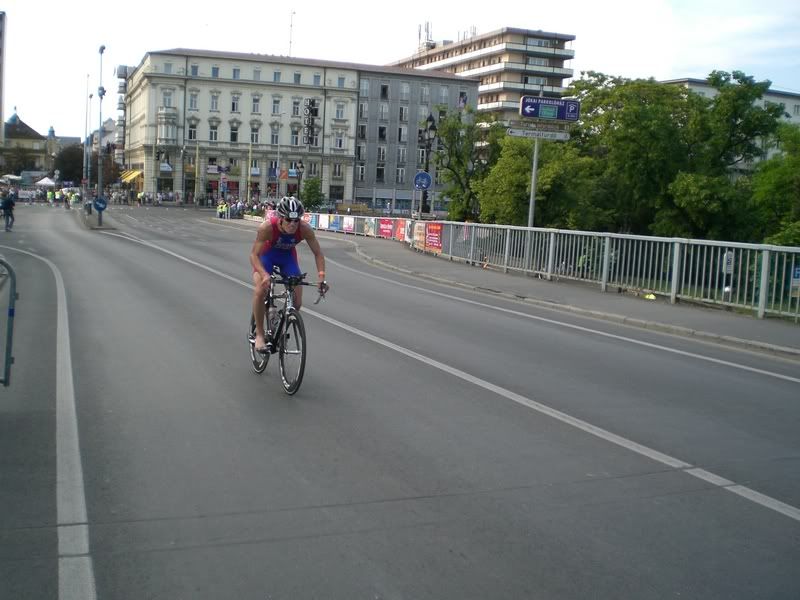 So I pedaled easy and let the new group catch me. I rode with them for basically 2 minutes, and then tragedy set it. A racer from possibly Greece?, I am not sure pinched me hard on a hard and crashed right into me. I flew off of my bike, rolled on the ground and into the median which was dirt and flowers. It happened so fast that I did not know what had happened. I hopped up onto my feet, scrambled for my water bottles, hopped on my bike, but my chain fell off. I put the chain back on, and took off as fast as I could. My heart rate was flying at that point because I was in panic mode. I thought my race was over with for sure. I rode hard and caught a pack, but then I was spent. My legs starting to cramp up badly so I took in a bunch of fluid. Kevin Danahy and Tyler Stanfield, both from the US helped me out a bunch on the bike telling me to stick in the back of the pack and spin easy to make the cramps go away. I was definitely hurting. The cramps wouldn't go away, and then I started to throw up because I took so much liquid in. So I was struggling to hang onto the back of the pack, throwing up, with burns on my shoulder and knee. What a race this was turning out to be!! The cramps finally went away on the 4th lap of the 6 loop bike course.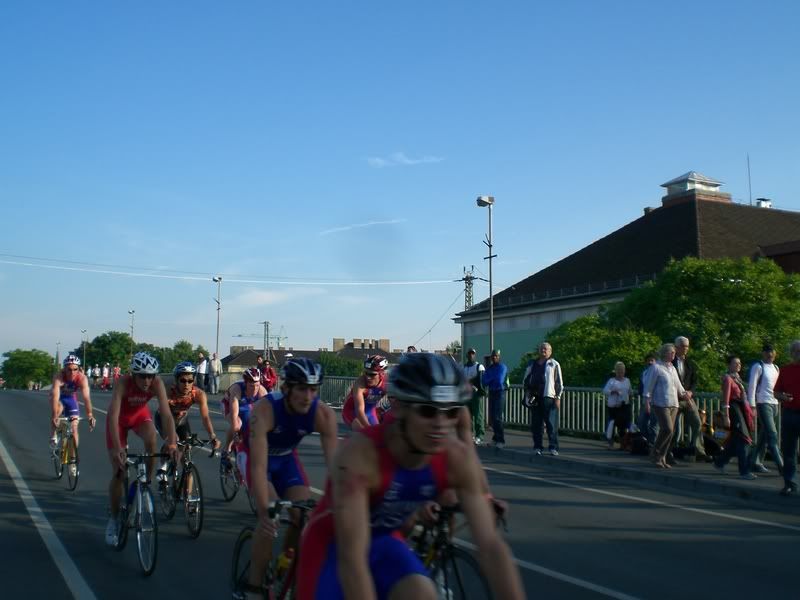 Our pack eventually caught 2 groups in front of us and it ended up being 40 racers big!! It was crazy making 180 degree turns with that many people. At this point I knew I was in contention of getting a spot on the podium (top 3) for the U23 division. On the last lap, I cramped bad again but hung on going into the last transition.
LAST RUN!!I took off running, and I was spent. My whole body was in pain from the fall and from cramping. It seemed almost as if I was in slow motion. The team USA coach was telling me that I was in position to take 2nd or 3rd if I could run hard and hang in there. I definitely was pumped because of my uncle Pet cheering and going crazy for me. The only problem is that my body did not want to go. I concentrated on running smooth on the first lap, and eventually the cramping got so bad that my hands were locking up. It was scary, but I needed to just finish. The second lap of the 2 lap course, I started to feel better. I passed a few guys that had passed me earlier, and I ran with Kevin Danahy. He dragged me along to the finish and it was over! I was disappointed, yet satisfied with my performance.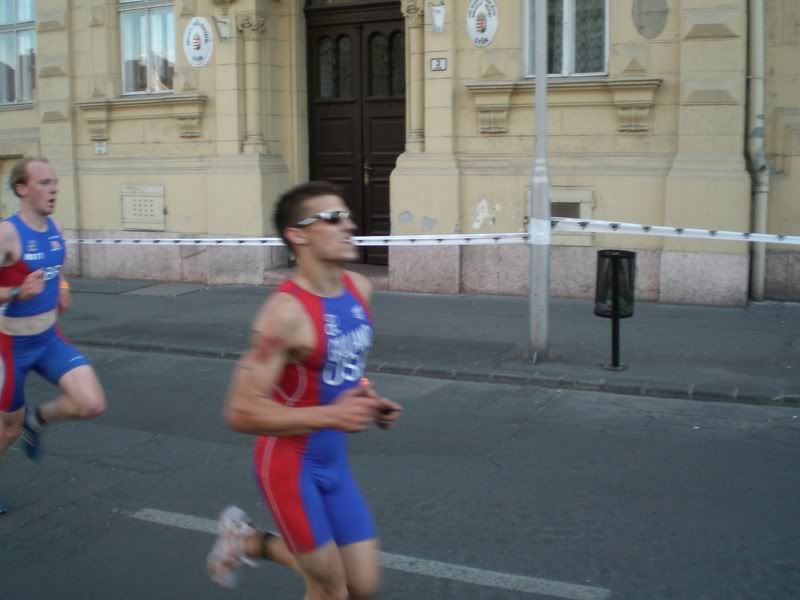 I ended up finishing 5th place in the U23 division. It was definitely an improvement from 11th place last year, but not what I wanted with being top 3. If I had not crashed, I think I wouldn't have wasted as much energy worrying and killing myself to get back into a pack. And I also need to figure out the nutrition problem. If I had not cramped, I know that I would have been top 3 for sure.On a side note, going into the last run, I was tied with the top finisher in the U23 division. If I had a strong run with no cramping, there would have been a great chance at winning. But I cannot live in a world of would haves and could haves. I am going to concentrate on figuring out my nutrition and continue to get stronger in the sport. I know that I am capable of placing very high in this race overall if not winning in years to come. I am just going to concentrate on improving and taking each race one at a time. I want to really thank my Uncle for being there for me and cheering me on. It was great to have him there and take my mind off of the race with all the jokes we had out here in Gyor.
POST RACE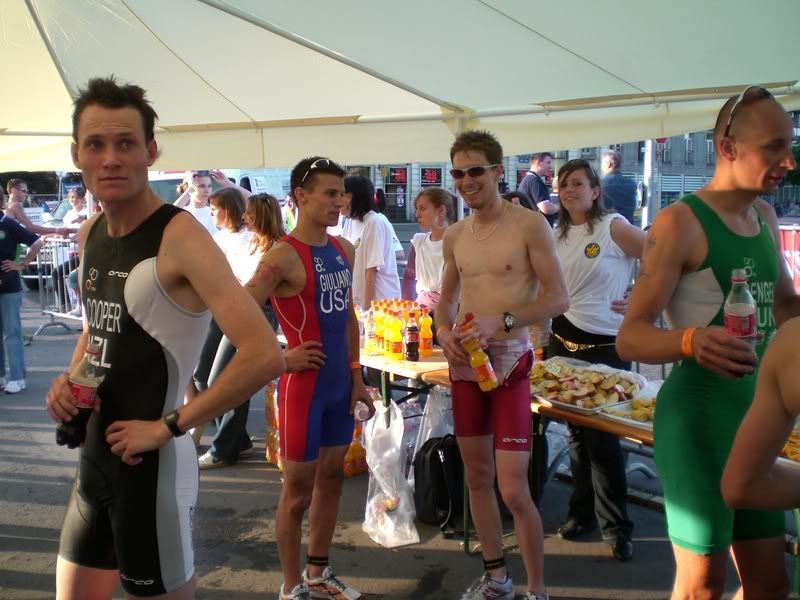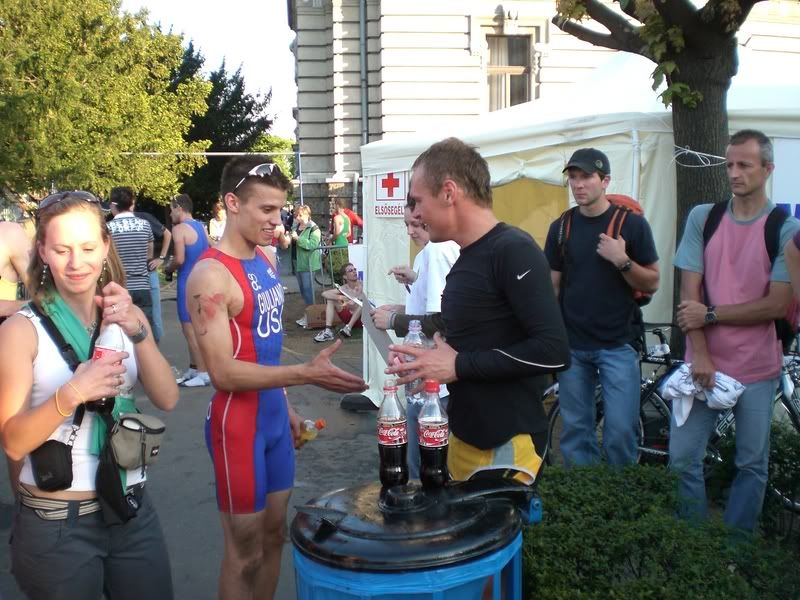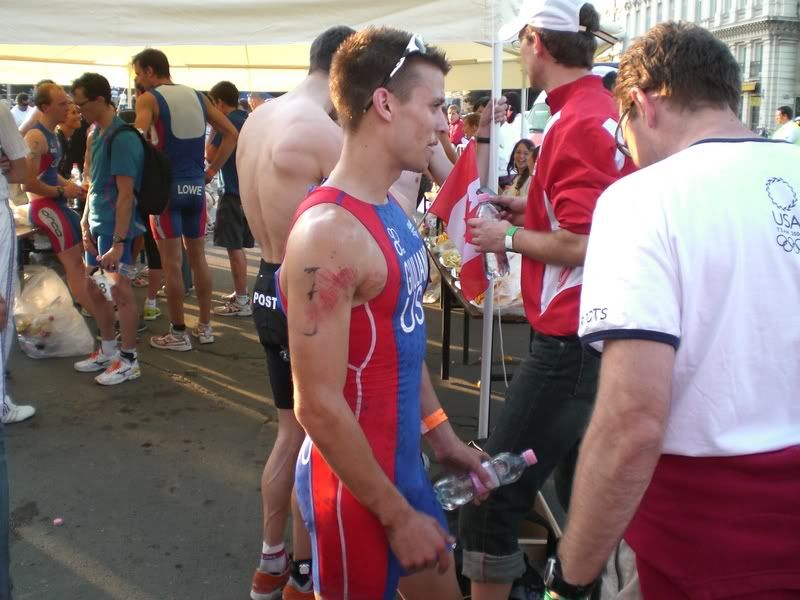 After all was done, I showered up, cleaned my wounds, and sat down for a while. We ate some chicken with rice for dinner and relaxed for the night. I hung out with the junior elite team. They were fun to talk to since I did not have a chance to really to much at the beginning of the trip. We took a taxi back to the hotel since it was late by the time we were heading back.
Day 5: May 18th-Vienna
In the morning, Pet and I went down to breakfast. We gave our hotel front desk worker 10,000 Forint for helping us the whole trip. She was shocked! It was about 54 US dollars. She kept trying to give it back saying it was too much money and thought we did not know how much it really was. She was great though each day helping us figure out buses, getting our transfer to Vienna set up, and having breakfast each morning. After eating, Pet and I went to take the bus to the town, but the bus flew by us not stopping. Our hotel was really nice and packed our suitcases into their car and drove us there. It was great being in our hotel. It was perfect, away from the race site a little, and had the best staff. We watched the age group racers a little bit, then waited for the transfer to Vienna. I do not think this guy was very happy though. He was upset about something and did not like us. So he put the heat on in the van. I think it was 95 degrees in the car for the whole hour trip to Vienna. I was sweating profusely! We looked up how to say "too hot" in our Hungarian book, but he ignored us and ate a candy bar instead. It was a relief to get out of that van. The best part was when he said goodbye, he said "hello" instead and shook our hands.
We then took a taxi over to our Marriott hotel in Vienna. It was basically a 5 star resort. The city itself it beautiful. There are huge old buildings and little streets with shops and cafes. We walked around the city for a while, ate at a little Vienna restaurant, and then got some gelato at an ice cream shop. It was amazing!!!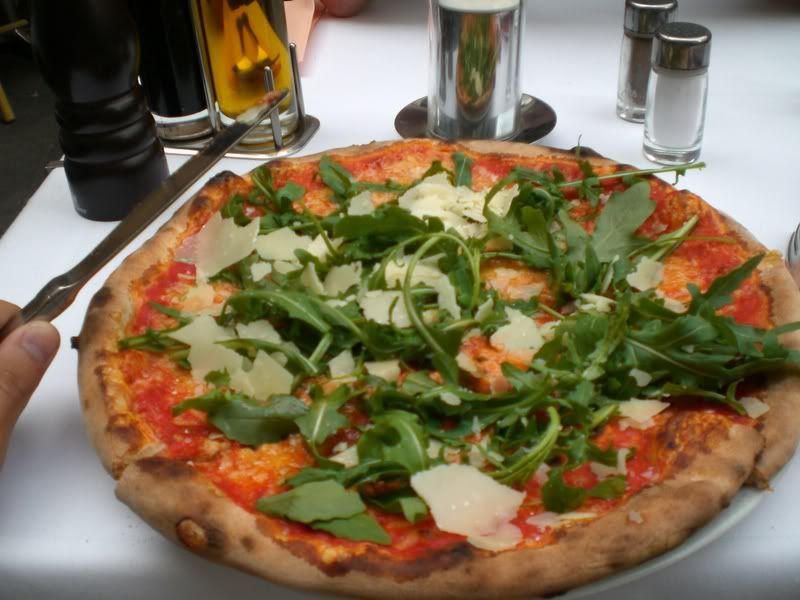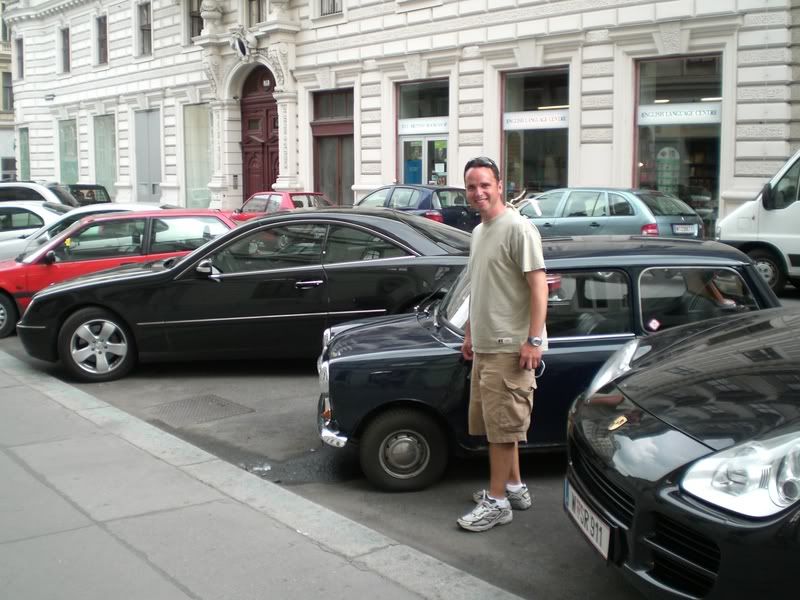 It was too bad that we did not get to see more here. Mostly every place was closed due to it being a Sunday evening. After walking around, we hopped into the hot tub at the hotel, relaxed, and had some chili. I am stuffed! Too much food in such a short amount of time. Overall, the day went really quickly. Tomorrow is not going to be a fun day traveling back to the States. We start with a 2 hour flight to Copenhagen, Denmark, then have a 5 hour delay, and then take a long flight back to Chicago. Hopefully the day goes quickly. But I have to get to bed soon because I have to get up at 4:30 am to catch a taxi over to the airport for the 7:30 am flight. I think that is all about the travels to Hungary though. I hope you have enjoyed reading!
Last note to my uncle Pet,I really want to thank you for all that you have done for me. It was an amazing trip, and I do not think I could have made it on my own if you were not here. It was awesome having you there by my side each day cracking jokes (mud pie, cigars, competitors, David, korsumum, toilet plates, Pet and Rygn Gizlan, and many others). It really helped take my mind off of the race and do better. I had such a great time on the whole trip and you have helped out greatly. I would have struggled on my own in the foreign country…maybe not have even made it over to the race itself! So thanks for being there for me. I hope that you can come to some more, and I hope that you had as great of a time that I did.
-your Hungarian brother, Rygn
Day 6: May 21st-Travel day and reflectionsWell, we woke up at 4:30 am to get to our flight. I am sitting in the airport right now in Vienna, Austria. While sitting here, I decided to write about the toilet system in Hungary. It is very nice with how it works out here. First off, there are two buttons. One big button is for when something large is in the toilet….say after eating a big meal. The other button is for when one drinks too much and must let it out. It saves water and seems to work out quite nicely. The next part is the topic of the "plate." The plate is a great invention. Do you ever sit down and let one go and feel the water splashing back up? Well if you do and can't stand it, move out to Hungary. They have a little shelf or "plate" that is positioned right under where you sit. The plate is slightly tilted down so that it runs into the water near the front of the toilet hole. So when you sit down to go, you basically let it out onto a plate, and when you flush, the water pushes whatever came out down into the water below and down the drains. Now, this advance in technology does have its downfall. This downfall is the dreaded skid marks. Since the solid (or liquid in some cases) plops right onto the plate, there is no water for it to sit in. When you flush the toilet, the water cannot remove all the solid and push it down into the water area. Therefore, there are constant skid marks. The Hungarians solved this by placing scrub brushes next to the toilets, but nobody seems to use them. I am sure if everyone did, the brushes would stink the place up, so I guess that is good. But overall, I think I prefer this toilet setup system. There is never the dreaded water splash back!Well, my battery is about to die. We board the plane very soon, so now its off to Copenhagen Denmark for a 5 hour layover.